According to Eurostat, the level of people living in poverty and being at a risk of poverty and social exclusion has considerably increased during the past years. For example, in 2011, 119.6 million people, or 24.2% of the population, in the EU-27 were at risk of poverty or social exclusion, compared with 23.6% in 2010.

In addition, the gap between the socio-economic classes is increasing, bringing alarming developments or rather lack of development towards sustainability to the society as a whole. Poverty and inequality related to it affects health and mortality rates, abuse of substances, as well as mental health. It also affects such social phenomena as trust between members of society and trustworthiness of the members of society, it is linked to corruption and obstructs development. It creates a society, which is driven by consumption and unhealthy competition, instead of solidarity and justice.

The poverty in Europe needs to be addressed as seriously as the poverty on a global scale, as this is a part of moving towards achieving the common goal of the eradication of poverty and well being for every person.

Therefore EYCE launched a 3-year initiative "Break the Chains! A Campaign to Overcome Poverty", which took place all over Europe throughout the years 2014 – 2016.

Objectives
To be able to contribute to the eradication of poverty the following objectives were set for the campaign:
to explore and analyse mechanisms behind poverty from theological, political and social perspectives;
to identify social groups mostly affected by poverty and tools to alleviate poverty;
to equip young people with tools and methods to combat poverty on the local, national, European and global level;
to raise awareness on various forms of poverty;
to ensure the practical impact of the campaign activities on different levels.
Timeline
To be able to cover as many aspects as possible the campaign has been subdivided into three thematic years. Each year a different aspect of poverty will be explored in depths through many different activities, such as international activities, Bible studies, publications, awareness raising materials, local initiatives and most importantly YOU!

2014: Mechanisms behind poverty.
2015: Faces of poverty
2016: Impact of EYCE and its Member Organisations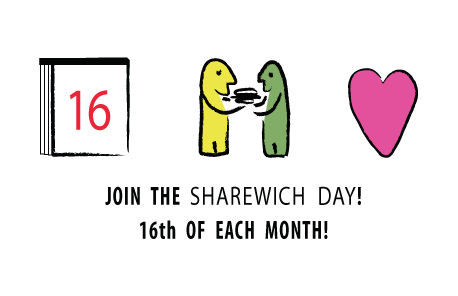 The members of the Coordination Team of EYCE's Campaign to Overcome Poverty "Break the Chains!" are so passionate about the concept of Sharewich Day!
On 16th and 17th October 2014 we had the first ever Sharewich Day. The idea is simple, all we ask is that you take a sandwich and share it with someone else. It could be anyone, a friend or colleague, someone who may be lonely, or hungry, but the focus is on sharing, not just giving. Take some time to sit with someone and eat with them, talk to them. It's all about respect and caring for your fellow human beings.
We think this idea is so great, we have decided to do Sharewich Day again, not just once a year, but once a month. So on the 16th of EVERY MONTH we invite you to share a sandwich with someone, and make a real difference to their day.
We would love to hear your sharewich stories, so use #sharewich to let us know how it goes!
See the Sharewich manual about how to do this!
Sharewich Day MANUAL